Planned Giving
The Salvation Army has a legacy of offering people a hand up, not a hand out. And it is through the legacies of loyal supporters like you that we are able to fulfill our long-standing mission.
Meet Your Planned Giving Directors
 

Mitch McConkey
Central Valley, Foothills, Northern Nevada

 
Tim Rodriguera
East Bay, Solano and Contra Costa Counties
Or, please feel free to call us at 888-214-8229 or email us at plan2give@usw.salvationarmy.org to request more information or to ask any questions you may have.
Charitable Gift Annuity
Are you looking for a secure source of fixed income for now or your future? You may be tired of living at the mercy of the fluctuating stock and real estate markets. One solution is a Charitable Gift Annuity.
How it Works
A charitable gift annuity is a contract between you and our organization.
You transfer property to us. In exchange we pay you fixed income for life.
The fixed income can be quite high depending on your age.
A portion of your income stream may even be tax-free. You will receive a charitable deduction for your gift and the satisfaction of furthering our mission.
Types of Assets You May Give
If you decide to fund your gift annuity with cash, a significant portion of the annuity income will be tax-free.
You may make a gift of your appreciated securities to fund a gift annuity and avoid a portion of the capital gains tax.
Start Receiving Payments Now with a Current Gift Annuity
If you desire current income, you may transfer property in exchange for our promise to pay you fixed income beginning as early as this year. You will receive a current income tax charitable deduction for the value of your gift to our organization.
Deferred Gift Annuity for Income at Future Date
Perhaps you are not ready to begin receiving income until a future date, such as when you retire. You can establish a deferred gift annuity, receive a current charitable income tax deduction and receive payments at a designated future time. Best of all, because you deferred your payments, your annual payment will be higher than with a current annuity. Contact us about flexible date options for your future income.
Call us at 888-214-8229 for a free CGA illustration.
Bequest
A charitable bequest is one of the easiest ways you can leave a lasting impact on our organization. A bequest may be made in your will or trust directing a gift to our organization.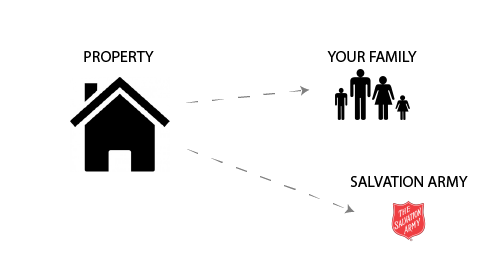 Benefits of Your Bequest
Receive estate tax charitable deduction.
Lessen the burden of taxes on your family.
Leave a lasting legacy.
How Do You Make a Bequest?
A bequest is one of the easiest gifts to make. With the help of an advisor, you can include language in your will or trust specifying a gift to be made to family, friends or a charity as part of your estate plan. For bequest language please contact us at 888-214-8229.
Your Bequest Options
A bequest may be made in several ways:
Gift of a percentage of your estate
Gift of a specific dollar amount or asset
Gift from the balance or residue of your estate
Making a Bequest of Your Retirement Assets
A retirement asset, such as an IRA account, makes an excellent bequest to us. If the IRA were given to your family, much of the value may be lost through estate and income taxes. By designating a charity as the beneficiary of all or part of your IRA (using a beneficiary designation form provided by your custodian), the full value of the gift is transferred tax-free at your death and your estate receives an estate tax charitable deduction.
Assets
Certain types of assets may be used as outright gifts of to fund lifetime income gifts (e.g, Charitable Gift Annuities).
Securities (Stock)
Appreciated Stock maybe used to fund lifetime income gifts. There is a partial bypass of capital
gain and you receive an income payout that has three parts: ordinary income, capital gain income,
and tax free income.
Depreciated Stock may be sold by you (reporting the loss) and then use the proceeds to make
a gift of cash. If you fund a charitable gift annuity, you will receive a charitable deduction and
the income payout has two parts: ordinary income and tax free income.
Real Estate (Personal Residence, Rental, or Commercial)
Most real estate holdings can be gifts to The Salvation Army. We have experience in accepting
real estate and using the proceeds to produce an income to you (and others). We will work with
you through the entire process, beginning with an out line of the process. We can work with your
financial and real estate professionals to create the gift that best meets your needs.
Personal Tangible Property
This may inclue jewelry, artwork, collectables such as fine china, coins, etc., and much more.
We can work with you to assure that any valuable personal tangible property that you own will be
treated as a valued asset to support our work. If the item or collection is high enough in value, we
will engage the appropriate auction house to assure that your property is handled with care and
the optimum value is achieved.
Watch Our Video